Glorious Splendour is a striking volume of dazzling images taken by talented photographers from all over the world.

The pages are inspired with thought-provoking quotes from some of the finest well renowned Christian authors graced with a lovely decorative typeface.


Stand in awe of His beauty as you experience a visual delight of vivid pictures that explode off the pages

Let God speak to you through a wild array of majestic landscapes, flowers, butterflies, mountains, forests, magical sunsets and breath-taking scenery


Be strengthen by short enriching quotes on Hope, Kindness, Love, Charity, Peace and Forgiveness


Read a page in the morning to greet God with or at any time when you feel the need for some spiritual upliftment

20 striking sunset images of His wondrous creation with a variety of colours, scenery and vistas


Feel calm and at peace with the tranquil, still backgrounds


Helps to remind you of the unhurried pace of God and that all is well

Decorate the walls of your home, studio or office with a matching set of 3 nature prints with lovely scripture verses


Be reminded that God is there for you and that He will never leave you nor forsake you


Perfect to glorify God with or act as a witness to non-believers

"God never made a promise that was too good to be true"

"One touch of Christ is worth a lifetime of struggling"

"Let God have your life; He can do more with it than you can"

"I am never so strong as when I have nothing left but Christ"

"The love of God is like the Amazon River flowing down to water one daisy"

"Don't lose hope. When you are down to nothing, God is up to something"

Our work is curated and compiled with care by South African artisans. Part of the proceeds will be used to enrich and uplift disadvantaged communities.
PACKAGE PRICE
R595
(Includes local delivery)*

Gift Book: A5 Softcover with 170g gloss page inserts & a 350g cover with a laminate finish. It is in a landscape layout for a wide vista feel (100 pages)

Desktop wallpapers: 72 dpi digital images. These will be available as downloads (20 wallpapers)

Prints: A4 full colour glossy posters (3 prints)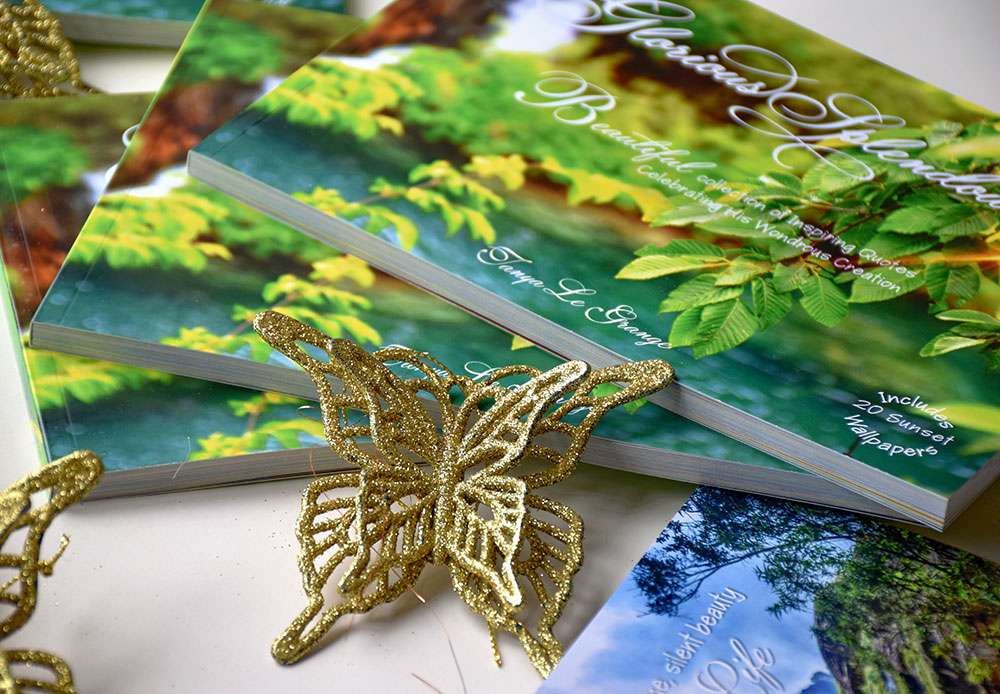 *Please note that no picture frames and accessories are included in the order as these have been left for your own choice to match your décor and surroundings*